Gourd Pyrography
Colorado Trinket box
Day 5
see Images at bottom of page
I am sorry it has taken so long to do an update on the scored project. We spent the better part of last week visiting doctors, having tests ran, and so on. Not to mention this is Christmas time of year. I was really hoping to have this gourd done by this weekend, because we have an art and craft show to attend. Unfortunately the only way I could accomplish this would be to compromise my work and apply less detail than I tried to maintain.
Sometimes I wish I did not try to get so much detail, as you can see doing just that small patch of trees is quite time consuming, not to mention trying to go around the gourd. Knowing the complications ahead of me, I decided to get a better feel for the mountain scenery by using a medium tip shader, turning the temperature down to about 4 1/2 to five on my razor tipped burner so that as I do a small scribbling motion starting at the top of each mountain and working my way down to the bottom, I can gradually shade a little at a time so that I do not end up with any dark burns or inconsistent spots. Also by setting the temperature low, it is easier to build upon as well as to fill any areas that might need darkened slightly.
I started by shading all the mountains evenly, then I took the mountains closest to me and started adding more shading to them with the same setting or just slightly higher. Where I have three rows of mountains I would darken the first and second row, then go back to the first row and start to darken it a little more so that it will be slightly darker than the second row, the second row will be slightly darker than the third row. For areas for I will still add trees, this will give me a darker base to work with on the closer mountains without having to spend so much time trying to darken them all with pixelation. As I get to the second and third row of mountains, the detailing on the trees will be much less distinguished. They will look more like dark patches on the mountainside.
This has been a fun yet very challenging project and I find it requiring a great deal of patience since I have never tried a scene like this and I'm teaching myself with a lot of forethought as I go.
With what little time I have left before this weekend, I will work on a few smaller pieces that will probably be more favorable for the craft show. I will insert a day to show what I have done for the craft show, and after the show I will resume this project as time permits.
Since I cannot guarantee a daily update on this project, if you would like to be notified when the next step is posted, please send me an e-mail and I will notify you with every future update.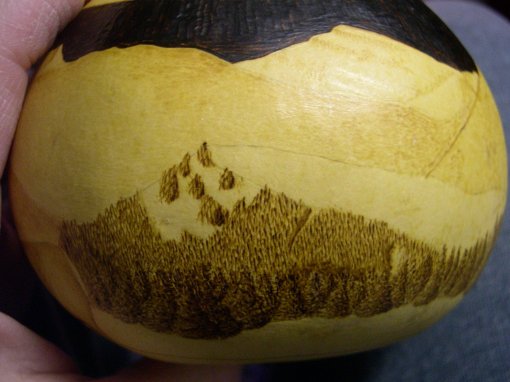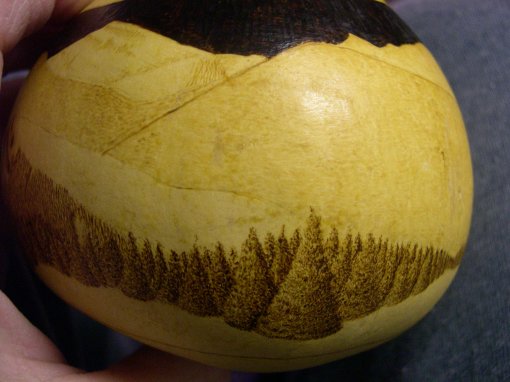 Coming soon, Gourd Art Trinket Box day 6